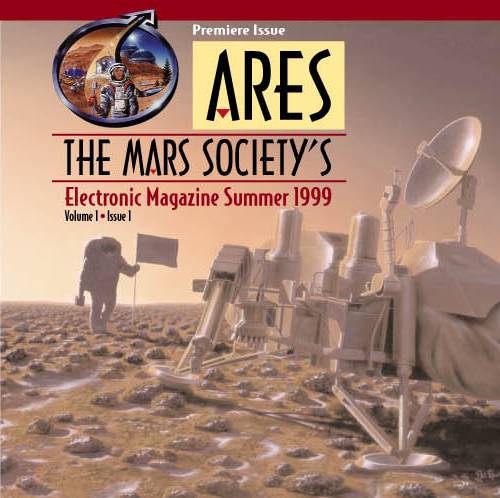 Ares Premiere Issue
Volume 1 - Issue 1
Summer 1999
Contents
Cover Designs
Known Issues
Order

---
Forward by Dr Robert Zubrin, President-Mars Society
Official Mars Society SlideShow & Script
Trailer for upcoming SimMars game
MERITT Tethers research paper by Dr Robert Forward
Clickable Mars Atlas (not included on CD)
Viking, Pathfinder, MGS Image Galleries
Website Snapshots
Chapter One - The Case for Mars, Dr Robert Zubrin
Other Information & Multimedia Features
---
There was a competition to design the cover of the first issue of Ares. In the end, Dr Zubrin chose Imagineering's cover, but two other members made great covers and we encourage everybody to continue to design covers for future issues.

Cover Design by Imagineering (became final design)
Cover Design by Chris Vancil
Cover Design by Adrian Hon
---
Known Issues with Ares - Volume 1, Issue #1
Macintosh Compatibility
Clickable Mars Atlas
The first issue of Ares does not work very well on Macintosh computers. The CD's filesystem is readable by both Wintel PCs, Macs, Unix workstations, and many others. However, the long file names we used are not supported on the Macintosh. The filenames are being truncated. For example, on a Windows PC the file containing Chapter One of the Case for Mars is named case-one.html. On a Macintosh, the name is being shortened to case-o~1.htm Predictably, this is breaking our menu system because the links to the filenames are incorrect. In effect, this makes the CD unusable via the menu system, although all the content is present and available on the CD for browsing via the Finder.
There is also no Macintosh browser included on the CD-ROM, even though instructions for installing it are printed on the CD sleeve. We made a decision late in the game to not include a Mac browser because of space and technical limitations.
To address these problems, we may be creating a Mac-friendly version of the first issue. Stay tuned to this website for details. For future issues of the CD, we definitely will do a better job of testing on Macintosh platforms and hope to have both of these problems fixed.
One item of content that wasn't ready for the CD was a clickable Mars atlas. We originally had planned to use a prewritten web-based Mars atlas that was designed by NASA/Ames and originally shipped on their Return to Mars 1997 CD-ROM. We realized too late that not only was the atlas of Viking-era data, meant more for research, and all the images were in grayscale. We also did not have enough room on the CD to fit the 30 megabyte atlas (the CD-ROM is close to its 650 megabyte capacity).
We now offer links to several clickable Mars atlases on this website.
If you can help us work on future Mars atlases, please email us at ares@marsnews.com